Wisdom Teeth Removal Procedure – What are Wisdom Teeth and Why are They Removed?
For compassionate care and skillful attention to detail, patients can have wisdom teeth removal procedures at Four Corners Oral Surgery.
What are wisdom teeth? They're the last teeth to erupt at the back of the mouth. Around 80% of people who develop these teeth will need wisdom teeth removal procedures. Humans evolved to grow wisdom teeth to deal with ancient diets consisting of hard roots, leaves, nuts, and meat. Wisdom teeth aren't needed today, and your dentist will recommend a wisdom teeth removal procedure if you have impacted wisdom teeth or other complications.
At Four Corners Oral Surgery we offer stress-free wisdom teeth removal procedures even in complex cases. If you've wondered why do wisdom teeth need to be removed, or if you have other questions surrounding wisdom teeth removal procedures, this is the guide for you.
Why Do Wisdom Teeth Need to Be Removed?
If your dentist has referred you for oral surgery, your first question is likely to be:why do wisdom teeth need to be removed?
Wisdom teeth are the third molars. They typically erupt in the late teens or early adulthood. In cases where they come through straight with enough space along the jaw, wisdom teeth removal procedures aren't needed. However, wisdom teeth commonly grow laterally. They can cause damage to the surrounding gum tissue and the second molars. They can partially emerge or remain trapped beneath gum and bone. Impacted wisdom teeth can cause problems with tooth spacing and position, and complications arise if they aren't dealt with early.
When asking why do wisdom teeth need to be removed, the simple answer is that the procedure will ensure your overall oral health. Without a wisdom teeth removal procedure, swelling, stiffness, pain, infection, and illness can occur.
The symptoms alone can often answer the question: why do wisdom teeth need to be removed? Disrupting the alignment of teeth can cause resorption of the second molars. Teeth could crack. Occlusion (how teeth come together) is often unbalanced when wisdom teeth erupt, so problems with chewing and speech are possible. Cysts and tumors can form in the most serious cases, leading to the deterioration of the jawbone and other teeth.
What are wisdom teeth extraction signs and symptoms?
Dentists look for impacted wisdom teeth and problems before referring patients for removal.
Jaw Pain or Discomfort
Evidence of Bone Loss
Gum or Facial Swelling
Impacted Wisdom Teeth
Inflammation and Redness
Difficulty Opening the Mouth
Cysts, Tumors, and other Pathologies
Displacement or Resorption of Other Teeth
Insufficient Space (Crowding)
Why do wisdom teeth need to be removed as early as possible?
The timely extraction of impacted wisdom teeth reduces surgical complication and risk, and limits discomfort and the potential for long-term problems. Waiting too long to remove impacted wisdom teeth increases the risk of:
Pain and Discomfort from Impacted Wisdom Teeth
Tooth Decay
Gum Disease
Bone Loss
Crowding
Damage to Neighboring Teeth
Nerve Damage
Temporomandibular Joint (TMJ) Problems
Why Do Wisdom Teeth Need to Be Removed in a Carefully Planned Procedure?
Wisdom teeth removal isn't as straightforward as a routine visit to your dentist.
Close examination and imaging can reveal what are wisdom teeth problems and potential complications. Four Corners Oral Surgery will evaluate x-rays of the mouth to determine tooth position, bone structure, and the best surgical approach. Diagnosis of impacted wisdom teeth also determines potential future problems, illustrating exactly why removal is essential.
Surgery can often be performed on the same day as your first visit to the dental surgery. A longer planning period may be necessary if you have a complex medical history or any condition that could affect your ability to heal from surgery.
What are Wisdom Teeth Removal Procedures Like?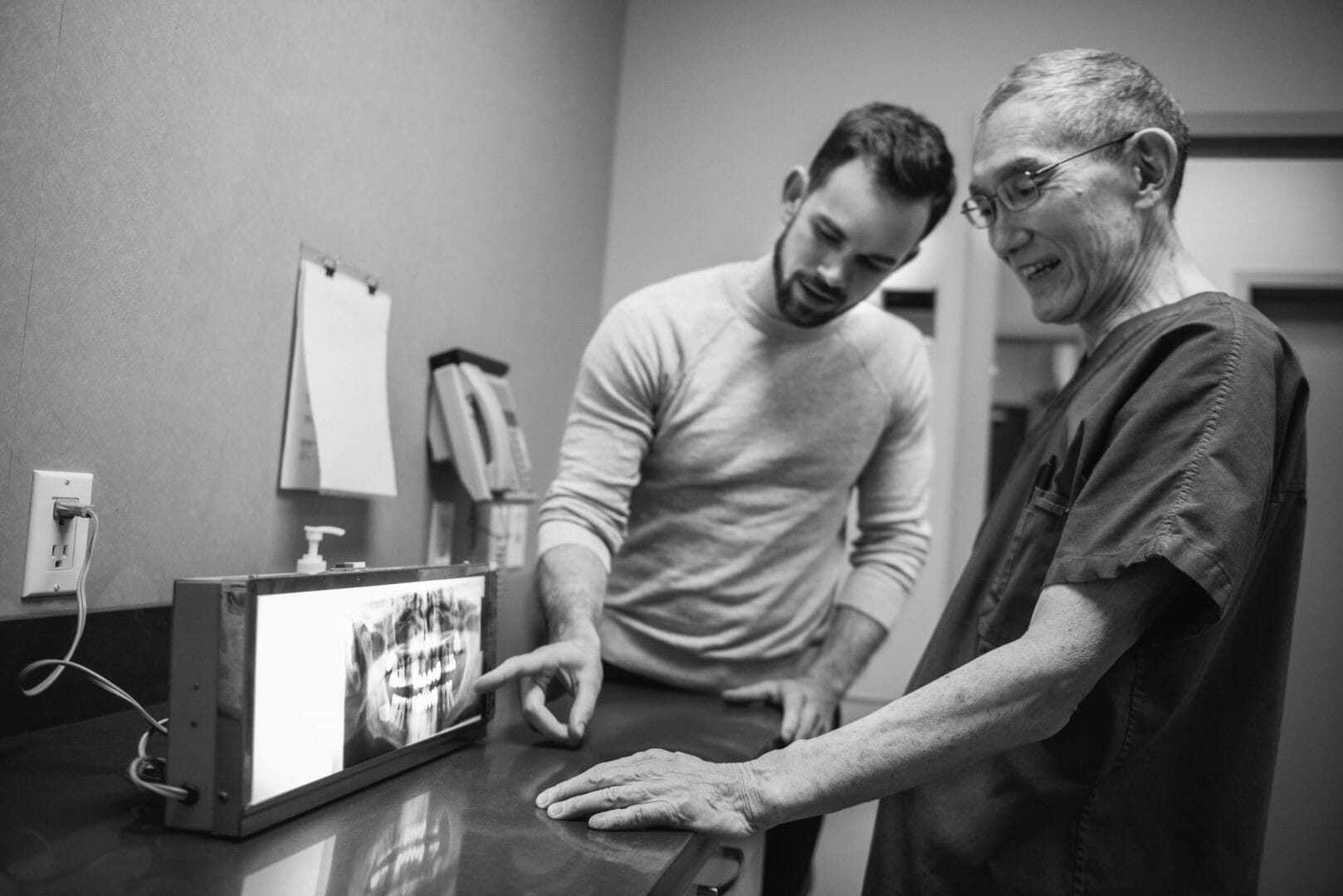 With the most experienced oral surgeons in Brampton, wisdom teeth removal is a comfortable procedure. For a smooth and successful surgery, local anesthesia, general anesthesia, or IV sedation (sleep dentistry) will be considered and discussed with you before the surgery.
Patients naturally have a lot of questions ahead of the surgery. What are wisdom teeth removal steps? What specific post-care instructions should be followed? What are wisdom teeth removal long-term outcomes? You'll have time to ask any of your questions in your consultation with our trusted oral surgeons. We are committed to making the process safe, seamless, and pleasant.
Wisdom teeth are elevated gradually during the surgery and extracted with elevator tools and forceps. Once the surgery is complete, the gum tissue is stitched with resorbable sutures, eliminating the need to remove the sutures later. Our experienced dental nurses will review the post-operative care instructions specific to your case and give you all the information you need for a comfortable recovery. Most patients are fully recovered from wisdom teeth removal procedures within two weeks.
If you have questions during the recovery period, our office is always available to assist.
Treat Impacted Wisdom Teeth at Four Corners Oral Surgery
A healthy smile is a beautiful smile. Protect your teeth and oral health with treatment for impacted wisdom teeth at Four Corners Oral Surgery. Trust the most experienced oral surgeon for wisdom teeth removal near you. Book your appointment today.
Trusted Local Oral Surgeon in Brampton
Patient Testimonials
"I recently had some oral surgery and just wanted to comment on how incredible each and every staff member was — from both the medical team as well as the staff at the front desk…. I was understandably nervous, but every person there made me feel calm, safe and relaxed…… thank you to each and every one of you!!! You're the best!!!"
"I was out of Dr. Mascarenhas's chair in approximately ten minutes, without pain.
I highly recommend him as one of the best Oral surgeons to consider."
"My son had complex oral surgery and Dr. Omura's job was outstanding, in fact my son was eating solids in 3 days.
The staff is extremely friendly, polite, caring and very helpful.
The assistant & nurse were great, compassionate and helped me get my 6'2 son into my car without hesitation.
Their Covid-19 safety protocols are impeccable. They take your temperature, questionnaire, give you a new mask. I felt so safe and at peace. Thank you for everything."
"Highly recommend. The team is amazing. Little to no after-effects after my implant surgery.
I was nervous coming in, but the staff put at ease and the surgery went flawlessly!"
"Dr. Mascarenhas performed a wisdom teeth extraction on all four of my wisdom teeth. The entire experience from start to finish to finish was nothing shy of wonderful. As a very nervous patient, all staff were kind, patient, and understanding. I would highly recommend this office to any patient looking for an oral surgeon."
"I came in for a consult and had my x-rays taken as part of it. I was very impressed with the technology and equipment Four Corners had. The assistant pulled up my x-rays immediately on the screen and Dr. Mascarenhas was able to walk me through my treatment plan right away. I am looking forward to my procedure next month, as the staff and surgeon were very welcoming and professional."
"I came in to see Dr. Mascarenhas for 2 dental extractions. I was so pleased with how the procedure went and that my recovery was fast and seamless – I went back to work the next day. This was an exceptional experience for me as I had gotten another tooth extracted at a different office about 3 years ago, and it hurt me for 3-4 months after; Dr. Mascarenhas' work was flawless! I'm very thankful for the staff's experience and professionalism."