What is an Impacted Tooth/Impacted Canine?
An impacted tooth is one that has been obstructed and can't erupt into its functional position. It's common for patients to experience impacted canines and wisdom (third molar teeth). The maxillary cuspid (upper eyetooth) is the second most common impacted tooth after wisdom teeth in terms of total cases. The maxillary cuspid is important in the dental arch and plays a major role in your bite, or how your teeth come together. Impacted maxillary cuspids can be particularly problematic and especially painful due to their long roots.
The maxillary cuspids are the last teeth to erupt. Most people will have them come out in their early teens. Eruption of the maxillary cuspids causes the surrounding teeth to move closer together. In normal development, this is when the look and feel of the smile become more consistent. However, if a maxillary cuspid is impacted, it must be carefully managed to ensure that it moves into the proper position on the arch.
The techniques for impacted canines like the maxillary cuspid can be applied to any tooth in the mouth, whether on the upper or lower jaw. More than half of impacted maxillary cuspids are located at the roof of the mouth. A 3D scan is often necessary (we use cone beam CT scanning) to locate the precise position of impacted teeth and begin the surgical planning.
The Relationship Between Age and Impacted Canine Tooth Treatments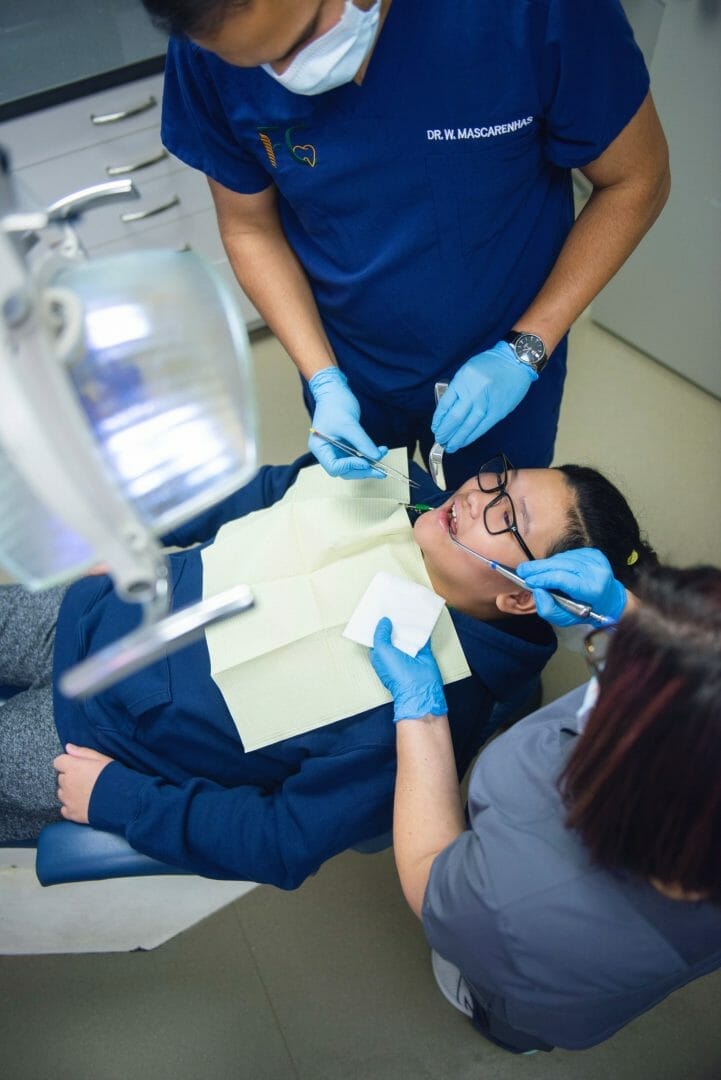 Impacted canine tooth treatment becomes more complicated in older patients. The older the patient, the less likely it is that the tooth will erupt normally through the natural process. Impacted canine tooth treatment ensures the safe eruption or provides other steps to normalize the bite for a functional and aesthetic smile.
An impacted canine tooth exam is provided by a family dentist or hygienist. The case can be referred to an orthodontist when complications are identified. An orthodontist will develop special braces for impacted eyetooth treatment, moving the teeth so that eruption can occur.
In rarer cases where impacted teeth removal is necessary, our oral surgeon will extract remaining baby teeth or specific adult teeth that are blocking eruption and causing an impacted eyetooth. In some cases, there could be abnormal growths or even extra teeth (known as supernumerary teeth) that will require treatment or extraction.
When the problem is identified and treated early, usually between the ages of eleven and twelve, it's likely that the impacted eyetooth will then be able to erupt normally. If treatment is left late, and the impacted eyetooth remains into the early teens, then the tooth won't erupt without intervention.
In a case where an older patient has an impacted eyetooth that wasn't previously diagnosed, the tooth will likely have fused into position. The orthodontic approach won't be sufficient to clear room for the tooth in these cases. The solution at this stage is to have surgical impacted teeth removal with an experienced surgeon. After extraction, a dental implant can be used to replace the missing tooth with a healthy artificial root and prosthetic.
Techniques to Avoid Impacted Teeth Removal
If an impacted eyetooth doesn't erupt through the natural process, your orthodontist and our oral surgeon will co-plan the treatment to support natural eruption. Each case is unique and will be approached as so. In most cases, the orthodontist will design and place braces. These will create the necessary space for the impacted eyetooth to be moved into the ideal position. If there's a baby eyetooth in place, it's usually left as is until the adult eyetooth is ready to erupt with enough space.
Finally, when there is available space, your orthodontist will refer you to Four Corners Oral Surgery to have the impacted eyetooth exposed and bracketed. The baby tooth will be removed at this point.
Impacted teeth removal is always the last resort and it's always the goal of your dentist, orthodontist, and surgeon to preserve your natural teeth. We will work to develop a solution where an impacted eyetooth erupts without the need for extraction, if possible.
Trusted Local Oral Surgeon in Brampton
Patient Testimonials
"I recently had some oral surgery and just wanted to comment on how incredible each and every staff member was — from both the medical team as well as the staff at the front desk…. I was understandably nervous, but every person there made me feel calm, safe and relaxed…… thank you to each and every one of you!!! You're the best!!!"
"I was out of Dr. Mascarenhas's chair in approximately ten minutes, without pain.
I highly recommend him as one of the best Oral surgeons to consider."
"My son had complex oral surgery and Dr. Omura's job was outstanding, in fact my son was eating solids in 3 days.
The staff is extremely friendly, polite, caring and very helpful.
The assistant & nurse were great, compassionate and helped me get my 6'2 son into my car without hesitation.
Their Covid-19 safety protocols are impeccable. They take your temperature, questionnaire, give you a new mask. I felt so safe and at peace. Thank you for everything."
"Highly recommend. The team is amazing. Little to no after-effects after my implant surgery.
I was nervous coming in, but the staff put at ease and the surgery went flawlessly!"
"Dr. Mascarenhas performed a wisdom teeth extraction on all four of my wisdom teeth. The entire experience from start to finish to finish was nothing shy of wonderful. As a very nervous patient, all staff were kind, patient, and understanding. I would highly recommend this office to any patient looking for an oral surgeon."
"I came in for a consult and had my x-rays taken as part of it. I was very impressed with the technology and equipment Four Corners had. The assistant pulled up my x-rays immediately on the screen and Dr. Mascarenhas was able to walk me through my treatment plan right away. I am looking forward to my procedure next month, as the staff and surgeon were very welcoming and professional."
"I came in to see Dr. Mascarenhas for 2 dental extractions. I was so pleased with how the procedure went and that my recovery was fast and seamless – I went back to work the next day. This was an exceptional experience for me as I had gotten another tooth extracted at a different office about 3 years ago, and it hurt me for 3-4 months after; Dr. Mascarenhas' work was flawless! I'm very thankful for the staff's experience and professionalism."